CloudRooms®
Cloudrooms® provided our most technically complex project to date. As a provider of online training courses, they needed online booking, full user management and integration with their internal systems.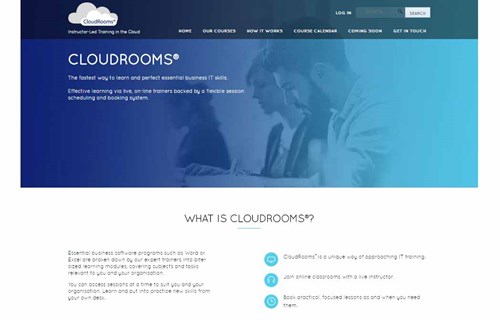 Cloudrooms® is a trademark of Commelius Solutions Ltd, an innovative online training company with a broad range of corporate clients. Cloudrooms® aims to make their expert trainers available to users outside their traditional client base, being geared towards small business and home workers.
Initially, Pixel<to>Code were engaged to maintain and improve their existing site, which was not attracting new customers. It was immediately apparent though, that aside from having a dated and unappealing look, the old site functioned poorly. The admin burden was high, and it relied on overnight data transfers so changes made to course schedules, availability or membership profiles were not apparent until the following day.
We proposed a four-fold approach:
Redesign the website with a cleaner, contemporary look
Smooth the booking procedure for a greater take-up
Simplify the Umbraco back-end to reduce the maintenance burden
Use a Web Api to access and update their internal systems directly
Emma Tregoning of Lovebird Digital provided the perfect design, using their corporate colours, and paying particular attention to the presentation and functionality of the course calendar. We used our Simplismo framework for the Umbraco back-end, and worked closely with the Cloudrooms® customer service team to design the user booking process.
In 2017 Commelius rebranded as Fenturi.
Design, and we shall build
Fast, reliable, experienced ASP.Net Umbraco developers
Front-end, back-end, testing, deployment... Outsource your web development projects to the CMS experts.
Contact us
We can't wait to hear from you