Kennedy Wilson Europe
Kennedy Wilson Europe are a property investment company listed on Nasdaq and our most prestigious client to date. The brief was to make it fast, responsive on multiple devices, and easily edited.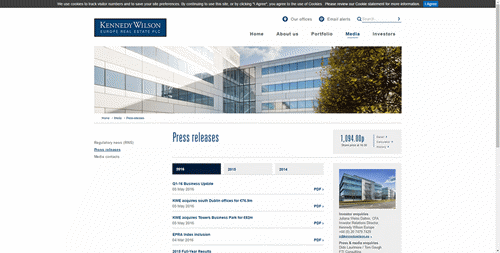 Their website had been redeveloped with an Umbraco back-end which they found hard to use and unintuitive, so much so that the new site never went live. Pixel to Code were commissioned by their web team to make small changes and undertake a review, and given the importance of the website in fulfilling regulatory obligations, our recommendation to rebuild was accepted.
Using the latest Umbraco and our Simplismo framework, and with the old site acting as a fully-built HTML mockup, we set to work. Simplismo has enough functionality to cope easily with a build of this size, enabling us to build the new back-end in a matter of days. A number of customisations were necessary but nothing out of the ordinary. The real challenge came in matching their design, to the pixel, across multiple breakpoints, without compromising fluidity and responsiveness.
With load-balancing and a basic content delivery network in place, the site is fast, even on mobile. Most importantly, we received positive feedback on the main driver for the redevelopment, the usability of the CMS. Little training was needed and the client found the editing process highly intuitive, a credit both to Umbraco's new user-friendly edit screens and to the way Simplismo structures the content.
Kennedy Wilson Europe have recently announced the completion of an £8bn merger with parent company Kennedy Wilson Holdings Inc.
Design, and we shall build
Fast, reliable, experienced ASP.Net Umbraco developers
Front-end, back-end, testing, deployment... Outsource your web development projects to the CMS experts.
Contact us
We can't wait to hear from you