Magnetic Media
Occasionally we help businesses that have been let down by their web design agency. Our job is to rescue the situation by giving them what they wanted in the first place.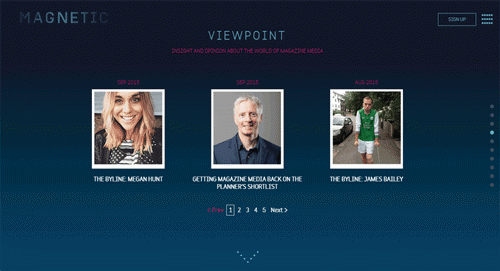 Magnetic Media, a marketing agency promoting magazine publishing, had a poorly performing one-page-application website. The Drupal implementation they had been given was not up to standard and it had been converted to a static site. Somewhere a lot of the front-end functionality had been lost and the user experience was poor. It barely registered on Google. They were in the process of commissioning a rebuild but needed a workable solution in the interim. 
We gave them an Umbraco back-end to enable them to fully content manage the site, with the ability to add video and digital content as well as news items. We fixed a lot of the javascript issues, and gave them the facility to send links to embedded content in their email newsletters. We made dramatic improvements to their search engine rankings by creating a site map, emphasising content keywords in titles and headings, and using microdata to highlight article content.
Working with a very limited budget, we couldn't address every issue, but we gave a damaged microsite with a limited shelf-life a lot of loving care.
They are now up and running with their new site, but we have continued the relationship, building a number of micro-sites to manage and publicise conferences, exhibitions and training events.
Design, and we shall build
Fast, reliable, experienced ASP.Net Umbraco developers
Front-end, back-end, testing, deployment... Outsource your web development projects to the CMS experts.
Contact us
We can't wait to hear from you