Volkswagen Vans
Pixel to Code were asked by our friends at Tribal Worldwide (part of the Adam + Eve / DDB group) to help out with a deadline on an Umbraco project. We comfortably met the deadline and made an end-client very happy.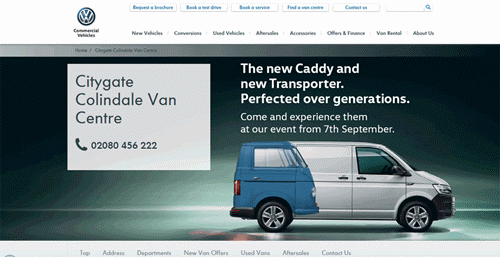 We were up and running from day one. Working within with the development team to convert designs into code, we completed the Van Centres section with time to spare for a few extra bits.
On this job we needed the ability to hit the ground running, to ask the right questions, and to fully understand a complex system. These things come with experience, and we have plenty of that.
So if you need Umbraco development services in a hurry, or if you're looking for a means of transporting lots of stuff, thanks to us you'll know where to go.
https://www.volkswagen-vans.co.uk
Design, and we shall build
Fast, reliable, experienced ASP.Net Umbraco developers
Front-end, back-end, testing, deployment... Outsource your web development projects to the CMS experts.
Contact us
We can't wait to hear from you